Take Charge of Your Processing Fees with Take Charge Virtual Terminal or Take Charge Hosted Payment Page
Use the Take Charge Gateway's Virtual Terminal to process credit card and ACH payments online securely, efficiently, and effortlessly. With the Virtual Terminal, you canconveniently process payments anytime or anywhere from any computer or device with internet access. Simply input payment information and process securely with the Virtual Terminal.
A Dynamic, PCI Compliant Hosted Payment Page
Immediately reduce risk exposure and streamline your checkout process. Simple and secure, the Hosted Payment Page can reduce, or even eliminate custom web development needs.
Reduce your PCI scope, increase your payment security, and offer your business and customers a convenient checkout experience. Protect your business – protect your customers.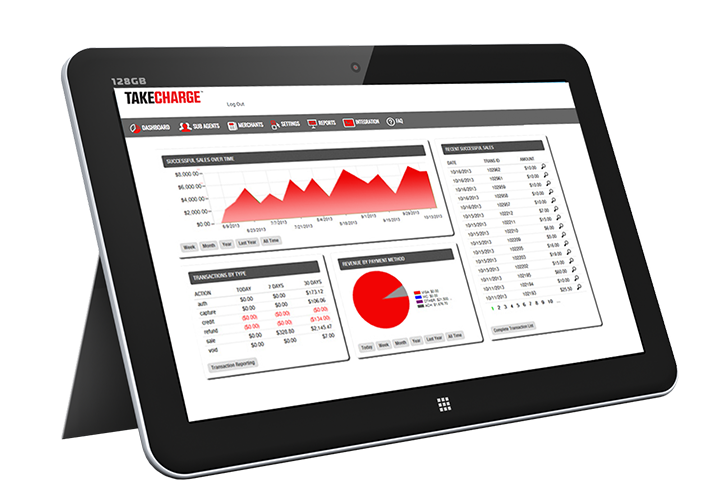 Dashboard
A selection of "mini-reports" for info at-a-glance

Virtual Terminal
Customizable fields, easy to use, and real time

Custom Receipts
Customize the content of email messages

Reporting Tools
Transaction history, searchable and sortable


API Access
Transaction API, Querying API, Recurring API, BillPay API


Custom Fields
Tag transactions with your own information


Mobile + Swipe
Mobile Apps with swipe support


Bundle Processing
Customizable layout, upload transaction spreadsheet


Hosted Checkout
Use our payment form to reduce PCI scope


Shopping Cards
Intergation tools for the top shopping carts


Take Charge Safe
PCI Compliant Tokenization System

Recurring Billing
Charge customers on a set structure

Partner Tools
Manage your merchants through one easy interface

White Label
Present your brand to your merchants

Boarding API
Present your brand to your merchants

Tip Support
Restaurants and more can add to a Sale amount to collect Tips

Invoice Manager
Online bill presentment & payment system

Desktop Terminal
Encrypted swipe application for PC's

Encrypted Swipe
End to End Encryption via API

Remote Deposit Capture
Deposit checks without going to the bank

EMV/Chip Cards
Now supported with TAKE CHARGE Desktop
Take Charge of Your Processing Fees
High-rate rewards cards are costing merchants a fortune.
Start Taking Charge by virtually eliminating those fees and rewarding your cash paying customers.